Experience Descriptions

At FPY, you aren't taking a fitness class. You are having a unique experience from when you come in the door until you come back in the door. We take this mission seriously. We want you to have a World Class Experience that keeps you coming back five to seven times a week because there isnt anything else out there that makes you feel as good as 30 to 45 minutes every day on a yoga mat. We HIGHLY RECOMMEND you start in our INTRO TO FPY class on Sunday's at 6:15pm. This will ensure your greatest path to achieving the vision you have for YOU! People are on yoga mats everyday at FPY because they feel great doing this! Consistency is the key! People that want optimal health make their health a priority.
Slow Power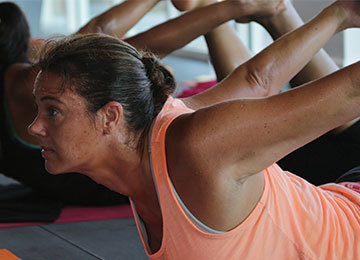 Slow Power is our Signature Experience! People's bodies change the most doing Slow Power more so than the cardio versions of different classes we have. It's done at 90F and 65% humidity. It feels like we are going up a mountain for 30 minutes then down for 15 minutes with the last 6.5 minutes being your best part of the day by laying flat on your back where no one asks a thing from you! Ahhhh... peace! It's tough and challenging yet so doable by everyone when you learn the secrets in the Intro Class. Slow Power is the best place to start after your Intro to FPY Experience on Sunday's at 6:15pm. Slow Power burns around 300-800 calories depending on your body fat percentage; the more fat, the more calories burned. This is how people lose weight and sculpt so quickly without ridiculous dieting. Why do any cardio that is boring and hard on your joints when you can burn twice as much in the same time doing something that is crazy addictive because it leaves you feeling great!

INTRO to FPY


A MUST TAKE! It's Sunday's at 6:15pm. This will give you best success to make your first class in the Sweat Shack Rock! You can go right into a Slow Power without it but WHY! We teach you the ways your body can do the poses that make up power yoga. We teach you how to breathe and how to be successful in a power class. It makes no difference if you haven't exercised in years or have bulging disks, tight hamstrings, weak knees, are out of shape or feel inflexible. We start with what you body can do and teach you how to fall in love with being messy in class. Perfection isn't part of our classes and neither is turning you into a pretzel or a weird yogi. After attending this class once, you have the basics to get through your first Slow Power Class.

Love to Jump Rope? Hate to Jump Rope but want to shred fat quickly? Priscilla developed JUMP! It's goes like this: One minute of jump roping, body resistance exercises for 1.5 minutes and one more minute of jumping rope. This is One Set. There are five sets! Most people new to it, suck at jumping yet it gets better quickly and starts becoming fun when you make it through each 60 second period. You dont have to use a rump either. Ladies: Yes you will pee a little! However when you continue to jump over time and tighten your pelvic muscles as you jump, you will avoid the dreaded adult diaper saga later in life. Pelvic muscles in all yoga poses will improve the strength of your pelvic floor and muscles. PS: That means sex life gets spicier as a byproduct!

Power Yoga is pure unbridled power. This is our Magnum Opus EXPERIENCE! We have people from all over the county and Tampa/St. Pete area drive for our Power Yoga experience. It's an unmatched experience anywhere! We move fast from pose to pose. It's unlike any yoga experience out there. We have people who love yoga that are new to FPY ask what just happened to them as it's way different then anything out there. People love it as it makes P90X look like child's play. We call every breath and to call it that fast means we know how to create a one of a kind experience each time you unroll a class. No two classes are ever taught the same way. We have no script that we teach by. Bikram people who love the structure of the same 26 poses done in the same series each time they unroll a mat, will hate us. We like flow, fun and creativity. We think of Bikram as an appetizer before Power which is the full 7 course dinner plus dessert! This class burns around 600-800 calories.


Yoga My Tabata Off

THIS IS NOT TO BE YOUR FIRST CLASS AT FPY!!!! FPY Members: please dont start your friends here as they wont come back. This is an experience that we developed to torch a ton of calories in people who love the Boot Camp Experience. Boot Camps alone can be brutal on your bodies. We have taken that aspect out of the experience. This is the quickest work-out you will experience. Everyone can do it after we tell you the secrets! Have you heard of HIIT? HIIT is a high intensity work out. Tabata is a version of a HIIT. One Tabata is 20 second of a movement like Jumping Jacks and 10 seconds of rest like jumping rope. This same set is done 8 times at the same intensity you start. There are 4 Tabata's in the 30 minutes.
EARLY RISER SERIES
There are so many studies that show people that exercise early in the morning are the most successful at staying fit and getting fit. When you do it before you eat anything, it has the benefits of fasted cardio which is a huge aid to losing weight. We developed this series to target every muscle of your body as well as provide you needed cardio. It's early! It's really early! It's 5:45am-6:15 Monday thru Thursday. The people in this series are successful at getting their exercise in each day. Your body moves for you each day and you in turn need to be good to it and move it. The people that have the greatest success in this series are the ones that go all 4 days and fit in Slow Power Yoga at least twice a week. This isnt a hang out after class. The class end promptly at 6:15am so Priscilla can get her kids to school.
Power Sculpt


Power Sculpt is an experience that was developed by Denice and Adrienne. Adrienne was going through her first preparation for a Bikini Competition. She stopped coming to yoga because she didnt have the energy after the grueling work-outs in the gym to prepare her for her show. Curious as to what Body Builders experience during a training session, Denice began training with a personal trainer with the one condition that she was allowed to do a Power Yoga class three hours after a Heavy Weight Training Regime. What she found out was how to stretch the body properly in yoga poses after each different type of exercise for each muscle group. And what was the biggest revolution was that the introduction to yoga for body builders within hours after their training prevents all the ridiculous soreness that they think they need to have with sayings like "No Pain, No Gain." That is a myth. Your body should never experience pain during any work-out. You dont have to have tight hamstrings, IT Bands, sore quads, arms that cant rest by your sides or walk like a hunched over Cro-Magnum. We took what we learned and developed this new experience for FPY. What we have seen over the past year is that people who hit Power Sculpt three times a week and do yoga five times a week have sculpted the most amazing asses, arms, abs, chests, and legs. We do yoga in between super sets to stretch out your muscles after your muscle pumps. This class isnt for kids under 12. We dont edit the music as its too hard to any more with singers singing whatever. This class burns between 500-700 calories.

MILITARY DRILLS
There are lots of athletes who can do a 10 minute Cross-fit WOD. Most cant handle our style of Tabata at first and even less can handle this class. Yet us yoga people can because we build fast and slow twitch muscles during Slow Power. Our muscles are strong, our endurance is crazy good and of course we are flexible like Gumby. Yoga is the only work out that gives you all this while being very good for your body! This past summer Denice's son developed this class as a way of preparing to lead their ARMY ROTC team's at University of Florida. Why would the military train through drills and not lifting in gyms? Imagine carrying a Ruck Sack and gear for miles, rapelling down a cliff, swimming 3 miles then killing the enemy during a rain storm. You have to be built for the long haul. Army Rangers and Navy Seals arent lifting weights. They are using body resistance for strength and endurance drills for preparing for the unknown. This 30 minute class starts with an intense round of floor exercises, followed by moving drills and ends with body weight holds. There is no yoga and no svasana or music. It's the fastest 30 minute work-out you will have leading to great endurance and a pretty nice ass! Only 15 can be in the class. It's HOOAH TIME at FPY!


GENTLE YOGA

There are so many people who live with body pain from bulging disks, to blown out knees, to rotator cuff injury,to past sports or work related injuries. They have been told by doctors crazy things like "You wont ever????" or that they need to go through lengthy physical therapy or they are prescribed pills to deal with pain, depression, sleeplessness, or maybe they just feel they will have to live with pain forever. There are many overweight people who feel judged walking into a gym or they think they need to lose weight before they can start exercising or that they will always be overweight. Yet not many are told or have thought to try the very inexpensive, non-evasive, lifechanging exercise called yoga. This class is done in a warm environment of 80F. We get people used to poses and breathing in a gentle way with the intention of getting them ready for SLOW POWER. It's a 4 week series that meets every Monday & Wednesday for 45 minutes at 6:15pm. All members can take this class if they wish but know we go slow intentionally.