Experience Descriptions

At FPY, you aren't taking a fitness class. You are having a unique experience from when you come in the door until you come back in the door. We take this mission seriously. We want you to have a World Class Experience that keeps you coming back five to seven times a week because there isnt anything else out there that makes you feel as good as one hour every day on a yoga mat. We currently offer four types of experiences on a yoga mat. All experiences involve yoga as that is the key to unlocking your best you! We are constantly searching for ways to bring more experiences to you. New to Yoga: start in a Slow Power Class.


Slow Power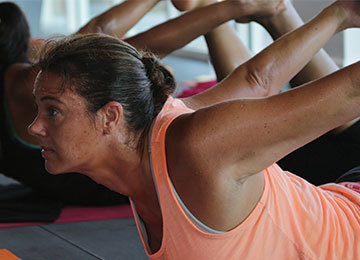 Slow Power is Power Yoga done slower at 90F and 65% humidity. We go up the Mountain slower thus allowing people to stay in poses longer. Slow Power is the best place to start. The absolute best time is 7:15pm on Sunday's as we move slowest in this class. If you have done yoga before, our Slow Power is everyone else's pace of their Power Classes. This class burns around 300-500 calareries. You'll start off in Downdog and go slower from pose to pose. It's still faster than you think yoga would be yet we have people of all ages and fitness levels feel comfortable and great after just their first class. This is also an excellent place to learn to use our Original Power Board which takes Power Yoga to a whole new edge!

INTRO to FPY


We teach you the ways your body can do the poses that make up power yoga. We teach you how to breathe and how to be successful in a power class. It makes no difference if you haven't exercised in years or have bulging disks, tight hamstrings, weak knees, are out of shape or feel inflexible. We start with what you body can do and teach you how to fall in love with being messy in class. Perfection isn't part of our classes and neigher is turning you into a pretzel or a weird yogi. After attending this class once or wanting to hang out in it for a few times, you will be ready for any class we teach.

Fascia Rolling


Rolling helps increase flexibility in your muscles, fascia, connective tissue and joints. Maintaining supple and flexible muscles is important throughout life but especially as your body ages. Great place to start getting your body to have more mobility or perfect after Power Sculpt. You need to bring a foam roller with you. The class is a 15 minute.


Power Yoga

Power Yoga is pure unbridled power. This is our SIGNATURE EXPERIENCE! We have people from all over the county and Tampa/St. Pete area drive for our Power Yoga experience. It's an unmatched experience anywhere! We move fast from pose to pose. It's unlike any yoga experience out there. We have people who love yoga that are new to FPY ask what just happened to them as it's way different then anything out there. People love it as it makes P90X look like child's play. We call every breath and to call it that fast means we know how to create a one of a kind experience each time you unroll a class. No two classes are never taught the same way. We have no script that we teach by. That's boring. We simply show up to teach to who ever is on the yoga mats and feel the energy in the room to where people want us to guide them. This class burns around 600-800 calories. Our most popular time is at 7:15pm on Monday's. Christie is 15 years old and teaches this class with so much Power that people come just to say they got their butt's kicked by her. If you can take it! Do it!

Yoga My Tabata Off


Never Your first Class!!!! This is an experience that we developed to torch a ton of calories in people who love the Boot Camp Experience. Boot Camps alone can be brutal on your bodies. We have taken that aspect out of the experience. This is the quickest work-out you will experience. Everyone can do it after we tell you the secrets!
Power Sculpt


Power Sculpt is an experience that was developed by Denice and Adrienne. Adrienne was going through her first preparation for a Bikini Competition. She stopped coming to yoga because she didnt have the energy after the grueling work-outs in the gym to prepare her for her show. Curious as to what Body Builders experience during a training session, Denice began training with a personal trainer with the one condition that she was allowed to do a Power Yoga class three hours after a Heavy Weight Training Regime. What she found out was how to stretch the body properly in with yoga poses after each different type of exercise for each muscle group. And what was the biggest revolution was that the introduction to yoga for body builders within hours after their training prevents all the ridiculous soreness that they think they need to have with sayings like "No Pain, No Gain." That is a myth. Your body does not have to experience pain, lactic acid build up or long recoveries in between work outs. You dont have to have tight hamstrings, IT Bands, sore quads, arms that cant rest by your sides or walk like a hunched over Cro- Magnum. We took what we learned and developed this new experience for FPY. We design a work-out that we do for the entire month so that people can first learn correct form and then work their way to higher weights. We have eliminated the need for expensive one on one personal training unless you are competing for shows then it is critical to have that kind of training and we can refer you to an amazing trainer who we both love! What we have seen over the past year is that people who hit Power Sculpt three times a week and do yoga five times a week have sculpted the most amazing asses, arms, abs, chests, and legs. You bring your own weights. We do yoga in between super sets to stretch out your muscles after your muscle pumps. This class burns between 500-700 calaries. We limit these classes to 12 year olds and above And there are only 25 spots per class, so you want to book these in advance or just show up and take the chance that there may be a spot.